This is the question Nicole Dean, a super nice inspirational marketer is asking all over the internet.  She's on a mission to change the world one small awesome act at a time.
She wants to help YOU awesomize your Business, Life and Make the World a Better Place beginning April 1st, 2015.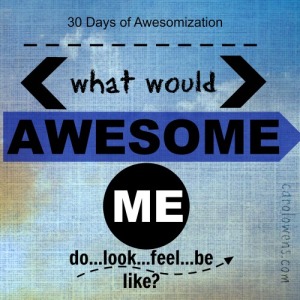 What would your life be like if you did one small awesome thing everyday for 3o days? How much better would you feel, look, and act? How much better would your business be? And how much better would the world be for one simple act of awesome to help someone else in the world?
I joined. I'm having a great time finding little ways to do awesome everyday. Simple things like eating fresh vegies for a snack instead of the usual crackers or going for a walk.  In my business I'm finding awesome things to change my business, like going for small goals I can reach in a week or less or adding more value to my products. For the world, I've already started cleaning clutter, donating to local women's shelters and the Humane society (they always need old blankets, newspapers, bedding material and toys). These simple awesome acts will hopefully, have an awesome impact on someone else.
I asked Nicole to take a few minutes out of her super busy life to fill us in on what this awesomization nation. I have been a fan/follower of Nicole for almost as long as I've been online (since 2002).  She's an awesome person herself, always with a kind word or act for others. Now she's asking YOU to become awesome for yourself.
Are you ready to be a part of the 30 Days of Awesomization plan?
Me: What inspired you to create this event?
Nicole: I have battled depression and anxiety for most of my life. In January, I was feeling especially down and puny until I decided to start a re-awesomization plan and kick my own butt into gear.  I committed to do what I could while having zero energy and zero motivation. I promised to make a few small changes and I took action on those changes every day.
In just days, I noticed that DOING Awesome made me FEEL Awesome – moreso than anything else that I'd tried, even though I was only doing tiny things.
That was all it took for me.
I decided that I wanted to help others to take the pressure off themselves, and instead just focus on being more aware and awake every day to the possibilities of making small choices to do awesome when possible.
ME: Thanks, Nicole. What will someone get out of joining in?
Nicole: The goal is to have everyone that joins do 3 EXTRA AWESOME things per day for the month of April.
The areas that I want to focus on for this month of Awesomization are our businesses, our lives, and making the world a better place. All members of the "Awesomization Nation" get access to a hopping Facebook group, where everyone involved is sharing their awesomeness on a daily basis.
PLUS, I'm creating a daily dose of awesome to inspire you with ideas for awesomizing your business, your life, and the world in tiny little steps so that it doesn't have to feel so hard!
For instance, in the area of Business Awesomization some ideas would include:
1. Record a quick video for your business with your smart phone. You don't have to post it, but do record it and watch it. If you love it, post it. If not, you can try again another day. No pressure. Give yourself grace to just see what it looks like. And remember, perfection is impossible to achieve. So, look at it through kind eyes and see what you want to change OR if you just want to put it out there because the message will help others. Your call.
2. Got a book in you? If so, today, just plan it out. Write out the outline and post a copy on your office wall. We can tackle the writing of the book in baby steps. Do this one thing and you'll be closer to being a published author.
What about Awesomizing your Life?
This is easy. 1. Go on a 15 minute walk, just because. It's cheaper than therapy and will help boost your mood AND get you more steps in today for exercise.
2. Write a note to a family member or send a birthday card today. See? It's easy.
The great thing is that the group of amazing people is there to motivate and inspire you during the process.
Me: Thanks, Nicole. I can already see ways I can awesomize my life, business and the world around me! What impact do you hope this event will have on those who participate and in general?
Nicole: The crazy thing, Carol, is that we haven't even started officially yet and the impact in the group is already beyond what I'd imagined. Seriously, people are connecting to do business things together (like this post), they're inspiring each other, and the bar is being raised across the board. I'm completely astonished and grateful that I get to be part of it, myself.
Thank you Nicole for being such an awesome inspiration to all of us.
If you're readyt to be a part of the 30 Days of Awesomization, click on over to the website. The cost to join is very small right now (only $15 until the end of March). I'd love to see you in the group.