Even before your book is published, as an author you need to have a website. It is where your readers, publishers, editors and other media will go to find out more about you and what you're up to. There are a few pages that every author website should have. They'll help your readers navigate your website. Also, some pages are required for other reasons, such as web regulations or search engine optimization.
Take a look at some of your favorite bestselling authors' websites. Take note of what they include, how they are set up and how the author interacts with their readers.
For example here is David Baldacci's website. It's well-designed and includes the main elements needed for a good site.

Here are a few of the pages  that every author website should have.
An About Me Page
People want to know about who you are, the author. They want to know where you're from, how long you've been writing, past accomplishments (and failures). They want to know what motivates you to write. They want to know your story. Put this in an about me page and make it easy to find. Include a few of your author photos. It should be a bit longer than the blurb on the back of the book cover you normally use.
James Patterson's website is a good example of a fleshed out about page.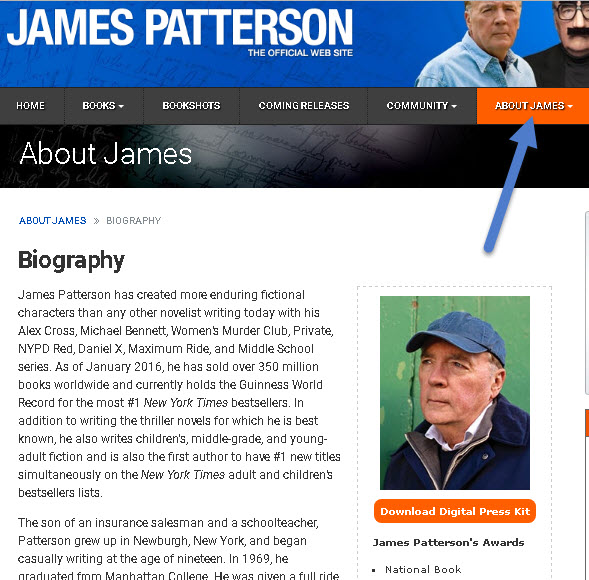 Contact/ Mailing List Signup Page
A contact page is a way for media specialist to contact you. This goes on a page within your website while a mailing list signup form is usually placed in the sidebare or at the bottom of a blog post. You definitely want to have a signup form for your newsletter. Newsletters are a powerful tool for marketing your books.
This is the opt-in found on my website: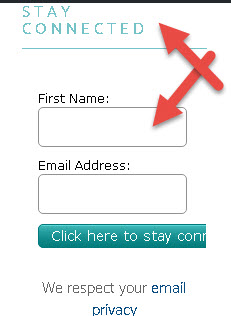 Social Media
Give your readers a number of different ways to follow you. Provide buttons that allow people to follow you on Twitter, on your Facebook page, Goodreads, Pinterest, your Amazon author page and even on Google+.  The buttons need to be easy to find, like the ones on Nora Roberts website.

Events
An events page can list your upcoming book signings, appearances you are making, new release dates and other events you are participating that your readers would love to know about, such as charity events. If you do speaking engagements you want to have them on this page.
Here's the events page from Debbie Macomber's website.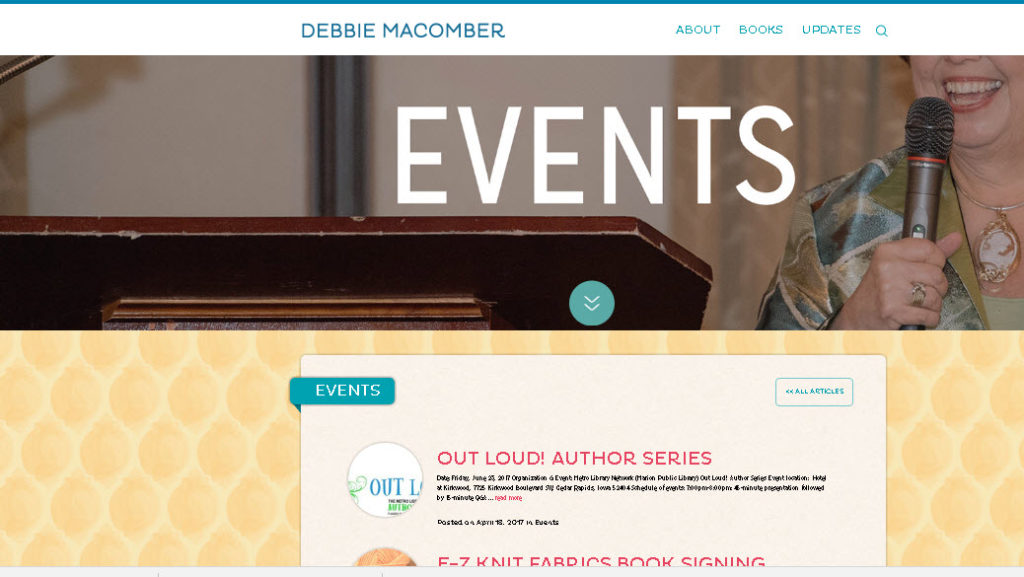 Your Books
The best option is to have a page for each of your books. It should tell your readers what the book is about, without giving away the story. This is will be where you sell to your reader. Include where they can purchase your book as well.
You need one page that lists all your books, short stories, and any other pieces of writing with links to the pages on your website where they can read more about each one.
David Baldacci's website has a page listing all his books. When you click on the title it takes you to a that books page with a complete description.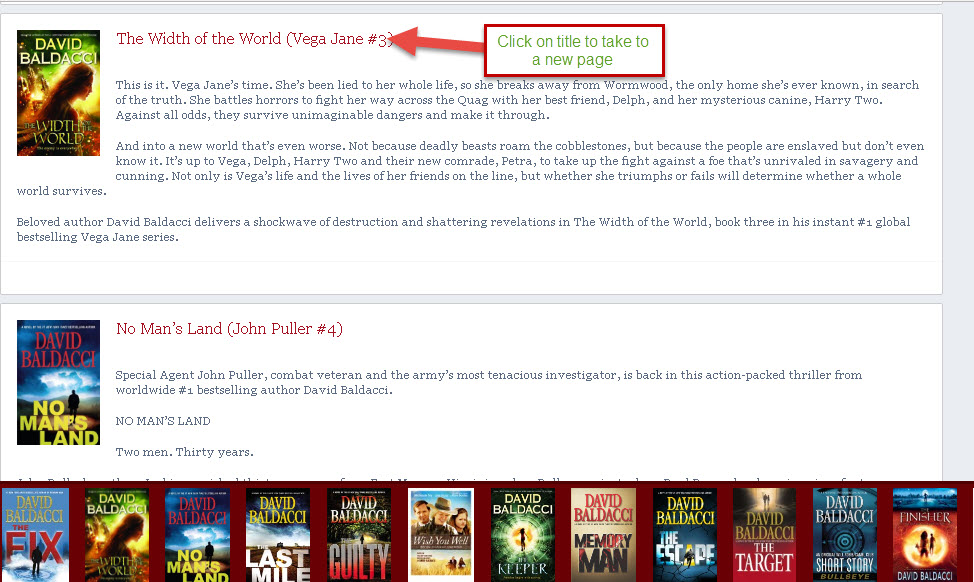 Every author needs a website. It is necessary for building relationships with your readers, the media and the publishing field. Make sure yours includes at least these five elements.
Do you have an author site yet? I'd love to see it.
Comment below with a link to it or connect with me on my Facebook page.
Carol